Due to a lack of internet facilities, updating the blog has proved to be a little difficult. But anyway, three movies of interest released last week. Here's what I thought of them:
Shaitan: Despite Indian critics raving about it, I think it was a rather weak film, especially so by Anurag Kashyap's own self-imposed standards. He is a film maker that boasts of realism and novelty in his works and Shaitan had neither of these. In terms of plot, it was essentially inspired by the Akshay Kumar starrer Khiladi mixed with Cruel Intentions and several other poorer Hollywood teen drama movies. 5 over-privileged, debauch kids decide to stage a kidnapping to extort money from their parents and in the process, bite off way more than they can chew. Sound familiar? Also, it was laughably unrealistic particularly in the post-interval portions. The characters lacked depth and the film has a judgmental tone that is shockingly illiberal. Not everyone who has sex, is promiscuous and indulges in drugs are repressed maniacs with a propensity for violence. Nevertheless, it was stylistically classy and well-executed. The soundtrack is excellent and the photography is brilliant in certain portions with interesting use of light and shadow. There was also some experimenting in the story telling by Bejoy Nambiar, who shows promise as a director. The performances were strong but the one stand out performance was that of Kalki Koechlin. Overall, this is perhaps the weakest of Kashyap's films since No Smoking.
Rating: 2/5
X Men: First Class: With Layer Cake and Kick-Ass, the one thing Matthew Vaughn proved is that he is one of the most stylish storytellers today. Here, he attempts to resuscitate the fledgling X Men series and while he fails to restore its glory in its entirety, he is successful enough to make us hunger for more. The prequel begins with providing us with the origins of Eric Lensherr (Michael Fassbender), a Nazi concentration camp survivor and Charles Xavier (James McAvoy), a privileged and brilliant Professor specialising in the study of mutations at Oxford. When the CIA stumbles upon a plot to start World War III by the sinister Sebastian Shaw (Kevin Bacon), it recruits the two mutants to find others like themselves and save the world from destruction. While the film is suave and stuffed with immense amounts of cool, it lacks the substance and spirit that could have taken the series to the next level. The story suffers for the sake of style and there is little character development worth talking about. The only exception to the character of Eric Lensherr which benefits from a fantastic performance from Michael Fassbender who plays the powerful but damaged Magneto to perfection. Overall, this is a good but not great movie. A superb cameo from Wolverine though.
Rating: 3/5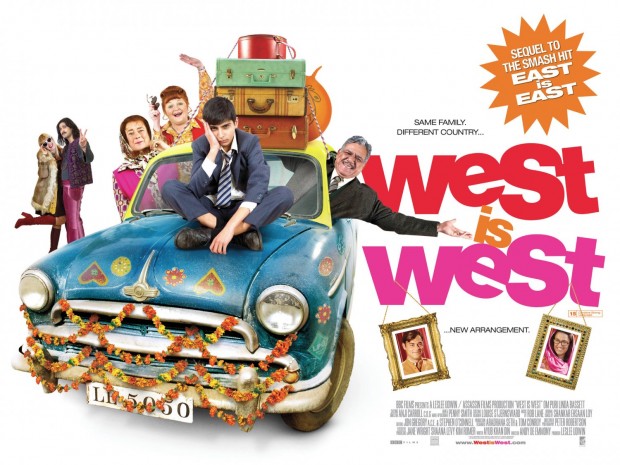 West is West: A considerably improvement over East is East, this film was entirely different in substance and tone taking a much more serious approach than the first film. It is less crass, lewd and doesn't play to the galleries like East is East did. Here, Jahangir Khan a.k.a. George (Om Puri) takes his last born Sajid (Aqib Khan) to his homeland in Pakistan to make him acquainted with his roots. In so doing, he confronts his first wife and the family he left behind 30 years ago leading to hilarity and poignancy in equal measure. Written with great wit and uncharacteristic amounts of intelligence, the film depicts the alternate culture and life in the Orient without mystifying or demonsing it. Its non-judgmental tone and emphasis on symbiosis is laudable. The humour is plenty in supply and works brilliantly in a lot of places. The verbal sparring between Pir Naseem and Sajid are some of the best written portions of the film. The director also does a remarkable job of contrasting Sajid's journey of self-discovery with:George's journey of re-discovery which involves facing his past. The performances of Om Puri, Ila Arun and Nadim Sawalha are simply outstanding. Ila Arun particularly pitches in a powerful and haunting act. Only one flaw: set in 1976, the film lacks a strong sense of time and place, which could have elevated the film to another level. Nevertheless, this is a thoroughly entertaining and insightful film that should not be disregarded.
Rating: 3.5/5