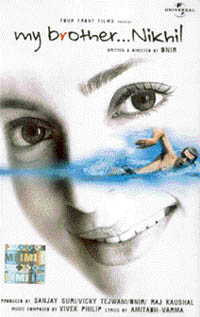 20. My Brother Nikhil:
AIDS, homosexuality, discrimination and the paranoia associated with the disease in the 1980s, "My Brother Nikhil" really went into an uncharted territory. One of the most promising directorial debuts of the decade, Onir's film dealt with thorny issues without ever getting preachy or heavy handed. Instead, he opts for the tale of a family which has to deal with these issues as one of their struggles with AIDS. Told from the perspectives of the mother, father, sister and friend, the narrative weaves these perspectives seamlessly into a beautiful, sensitive and coherent whole. It features splendid performances from Sanjay Suri, Juhi Chawla, Purab Kohli and veteran actors like Victor Banerjee and Lilette Dubey. The theme song "Le Chale" is hauntingly beautiful and resonates for a long time after it's over. The movie breaks taboos; gives us a moving tale and marks the coming of a competent and fresh storyteller.
19. Jab We Met:
A surprisingly funny romantic comedy laced with wit, humour, lovely performances and popular music. Formulaic to the core and yet very fresh, Imtiaz Ali's first feature film became wildly popular among the youth who flocked to the theatres to watch it. It saw Kareena Kapoor in form after a very long time who so absolutely convinced us as the loud, obnoxious, impulsive Geet that we couldn't help but fall in love with her. Shahid Kapoor tasted success after a long time and a string of flops. Both their careers got a much needed boost. Pritam gave his last good music score before settling into stereotypes. Imtiaz Ali was seen as the new wonder boy on the block and then gave us the awful "Love Aaj Kal." Despite multiple viewings, I still find the movie fun and funny. I don't think that is going to change anytime soon.
18. Rock On!:
Before "Rock On", Abhishek Kapoor made the insufferable "Fight Club: Members Only". The music was alright and it took more than one hearing to get used to Farhan Akhtar's voice, an ominous sign for a movie about a rock band. Hence, even though Farhan Akhtar was producing, I was not sure of what to expect from the film. Of course, soon after its release, it was all that was talked about! A classic band movie in every way, the strength of the film was that it held back the melodrama and had a very distinct urban youthful appeal. Farhan Akhtar proved that he can not only work "Magik" behind the camera but also before it. Arjun Rampal gave the performance that potentially resuscitated a dying career. Prachi made a confident debut as the trophy wife and Shahana Goshwami was simply superb as the Goan wife frustrated with the cards life has dealt her. The music caught on in a big way and is loved by many even today. Overall, this was an inspiring, warm-hearted film which did wonders for all the careers involved.
17. Lakshya:
Speaking of superlative performances and remarkable character transformations, one cannot forget Farhan Akhtar's follow up to "Dil Chahta Hai." A war movie, a coming of age tale, Farhan Akhtar proved with "Lakshya" that he was no one time wonder. Although the film suffered at the box office from a barrage of war and cop movies around the same time, it was critical darling, liked by most and loved by many. What was undeniable, however, was the stunning career best performance of Hrithik Roshan in the film. His transformation from a confused, carefree and kind hearted youth to a brave soldier and leader is as inspiring as it is natural. See him in the scene where his character tells Romi (Preity Zinta) that he has found his lakshya to see how much he is capable of as an actor. The film is exquisitely photographed with a view of the border areas that simultaneously evokes a sense of awe, wonder and is deceptive for the violence it conceals. One of Shankar, Ehsaan and Loy's last interesting albums (before they started churning the typical love ballds etc.), it featured some mesmerising instrumentals and songs like "Kitni Baatein" and "Main Aisa Kyon Hoon?" Farhan Akhtar demonstrates great dexterity in execution of several sequences. My favourite is the execution of the song "Kitni Baatein" where there are no grand gestures or choreography. In the midst of a bombing of a soldier post, the two lead characters (a soldier and a war correspondent) stuck in a bomb shelter convey so much through their eyes of all that is unsaid between them. A superbly shot sequence, it was a sad, poignant moment which proved that Farhan Akhtar is the most promising storyteller of our generation.
16. Munnabhai MBBS:
Now, this was a huge surprise package. Vidhu Vinod Chopra's credibility was considerably doubted after "Kareeb" and "Mission Kashmir." Rajkumar Hirani was an unknown name. The cast included Sanjay Dutt, Gracie Singh (both hardly bankable) and the relatively unknown Boman Irani (best known in theatre circles for his performance in shows like "I'm Not Bajirao"). The music was also hardly catchy. Consequently, it was no surprise that the movie had a slow start. However, the movie caught the audience completely by surprise. Although loosely inspired by "Patch Adams", it was a warm-hearted, funny film that had a distinct appeal of its own. The jaadu ki jhappi became wildly popular among the people for a long time. Through strong word of mouth, the movie emerged to be one of the biggest hits of 2003 and even spanned a sequel. Although it was overshadowed by the release of "Kal Ho Na Ho" and "Koi Mil Gaya" in the same year, in retrospect it is certainly a better film with a stronger following. Rajkumar Hirani showed promise in making movies the way Hrishikesh Mukherjee used to: simple, funny and relatable stories woven together into a plot with strong messages. It was a delight to see a film that valued its scripts and dialogues more than anything else. Boman Irani became one of the best character actors in the business practically overnight. Arshad Warsi also enjoyed the spotlight for the first time thanks to his portrayal as the lovably funny Circuit. A landmark film of the decade, it marked the rise of a new kid on the block with a penchant for telling stories that were appealing to one and all and had the style of the classics.
15. Iqbal:
Nagesh Kukunoor gave us hard hitting realistic cinema in movies like "3 Deewarein" and "Dor." However, his finest work was a fairy tale about a deaf and dumb kid with dreams of bowling for the Indian cricket team. "Iqbal" was a superb film in all respects. Featuring a star-making turn from Shreyas Talpade, a splendid performance by Shweta Prasad and some memorable moments from the ever bankable Naseeruddin Shah, Prateeksha Lonkar and Girish Karnad, the film was the dark horse of 2004 that emerged as a winner. While the story is hardly possible in real life, it rests on the strength of emotions and that is where the film scores and how! The story of Iqbal is the story of anyone who was told he couldn't get what he really wanted and worked against the odds to achieve it. It is inspiring as it is universal. It reminded me often that the strength of a film lies in the execution. No matter how simple or far fetched the story is, if told with conviction and adequate care, can be transformed into a cinematic experience. Kukunoor's "Iqbal" is proof of that.
14. Khosla ka Ghosla:
Ab iske baare mein kya kahe? The most pleasant surprise of the decade, "Khosla ka Ghosla" had one of the best screenplays of the decade. Laced with wit and humour, it was at once laugh out loud funny, satirical and sweet. It featured some fabulous performances by Boman Irani, Vinay Pathak and Anupam Kher. A throwback at the classic comedies of the late 70s like "Chupke Chupke", "Golmaal" and "Chashme Badoor", the movie could have been disastrous had it been put in dodgy hands. However, Dibakar Banerjee exercises great restraint when it comes to the humour. He doesn't go the "Priyadarshan way" by going overboard with the humour. His brand of comedy is very different. He draws subtly funny characters that, at the same time, are believable and straight out of life. He finds the right balance in satire and situational comedy and dishes out, arguably, the most feel-good film of the decade. A cult classic of sorts, this film is one that will age like fine wine. It will be savoured for years to come.
13. Dev D:
Now this was one of the biggest gambles in recent times which thankfully, paid off. Anurag Kahyap's redemption vehicle (after the self-indulgent "No Smoking") also proved to be his masterpiece. Reinterpreting the classic tale of Devdas, the film was wildly inventive, deliriously manic and bowled me over completely. From the very first scene, I knew I was watching something fresh and path breaking. The movie was bold in its treatment of its female characters and rightly portrayed Devdas as a handsome, charming but ultimately, insecure man incapable of loving anyone but himself; a hypocritical chauvinist drowning himself in self-pity. It showcased some exciting new talent in Mahi Gill and Amit Trivedi (the music director) and was technically impeccable insofar as the camera work was concerned. Abhay Deol cemented his position as the bankable unconventional actor further with his performance here. At the end of the day, despite some flaws, "Dev D" is perhaps the most daring and original film to grace the Indian screens after Sudhir Mishra's "Hazaaron Khwaishein Aisi."
12. Chak De India:
Ever since Aditya Chopra took control over Yash Raj Films, they have steadily churned out more and more movies each year giving a chance to new and upcoming directors. This has done more harm than good to their image as most of the movies have been disasters at the box office and stripped the production house of the exclusivity it once enjoyed. However, in a year where they gave us the poor "Laaga Chunari Mein Daag", the weak "Aaja Nachle" and the downright disastrous "Jhoom Barabar Jhoom", there was one gem that salvaged their reputation (and mostly their balance sheets as well). With "Chak De India", Shimit Amin (of the critically acclaimed "Ab Tak Chhappan") made a foray into the dicey and largely uncharted territory of women's hockey.
Based on the true story of the man who coached the Indian Women's Hockey Team to victory at the Hockey World Cup, the movie was a surprise in every way. It was more than just a sports movie and took on heavy themes like sexism, regionalism and bias and wove them together so well into the narrative that the result was the best movie of 2007. Shah Rukh Khan gave a solid performance which was a far cry from his usual chocolate boy routine. However, even he was eclipsed by the absolutely stunning performances of all the actors constituting the women's hockey team. Each of the major players, be it the foul mouthed Haryanvi or the short tempered Punjabi, was convincing and effective. The movie made you care about the characters and consequently, when that last penalty shot is taken, I found myself cheering aloud with the rest of the auditorium. Truly, a remarkable film this one was!
11. Luck By Chance:
I know I am in the minority here but this was one of the finest films of not only 2009 but also in recent times. If "Dev D" was like a shot of vodka, "Luck By Chance" was akin to a glass of
DRC
. A movie about the movies has rarely ever been this good. Zoya Akhtar made a debut of a stature that can only be compared to her brother's debut vehicle. She got everything right with the film. The best part was the cast. Each actor from the leads to the small roles were picked with a lot of care and it shows! Outstanding performances were given by all the actors, particularly Rishi Kapoor, Dimple Kapadia and Farhan Akhtar. What was perhaps most striking about the film was how realistically the themes were explored. Not one part looked like make believe. The cameos were extremely well used and just added to the impact. There were many scenes that really stood out: Rishi Kapoor's breakdown, Dimple Kapadia's final scene with Isha Sharvani, the scene between Hrithik and the street kids, and the conversation between Shah Rukh Khan and Farhan Akhtar. The last one particularly rang true considering where Shah Rukh Khan comes from and where he is today. Zoya and Javed Akhtar's writing was impeccable which looked at the Hindi film industry with great affection and rare understanding, even when poking fun at it. This lends a texture and depth to the movie that makes repeated viewings a rewarding experience (a rarity in Hindi cinema). Overall, "Luck By Chance" is the best movie on Hindi movies and sets the new benchmark against which similar themed movies will be judged in the future.