"What I can understand is that his co-star, Deepika Padukone, abandoned a promising start as a badminton champion to become a model and actress. She is breathtaking, which of course is standard in Bollywood, where all the actresses are either breathtaking or playing mothers."
- Roger Ebert (on Chandni Chowk to China)
Recently, the above passage from Ebert's
review
got me thinking: is beauty really the only determinant of the success of an actress in India? I mean look at the mainstream female actors in India today. The first ones that come to mind are Priyanka Chopra, Rani Mukerji, Preity Zinta, Aishwarya Rai, Katrina Kaif and the like. They all look gorgeous and they all rarely act (and most of the times they do, the standard set is quite a low one). Few experiment with roles and practically none dare to consistently take on bold, challenging and career-wise risky roles the way actors did once upon a time. This led me to prepare of list of female actors of both, the past and the present who had gumption and took on some daring roles and delivered unforgettable performances. In this first part, I look at the women of the past in ascending order of brilliance:
Kajol
: She is probably the only mainstream actress to have some interesting career choices worth considering. Not the conventionally pretty gal, she has given some fabulous performances in difficult (and consequently, unbecoming of an actress on the top) roles. Apart from the iconic roles of Simran in DDLJ and Anjali in Kuch Kuch, she has also taken on the role of the vulnerable sister in "Dushman," the sinister and obsessive vamp in "Gupt," the Alzheimer stricken wife in "U, Me Aur Hum" among others. While the movies themselves might have often been below average at best, her performances have never been faulted by anyone.
Manisha Koirala
: Before she became known for doing movies like "Ek Chotisi Love Story" and "Chaahat – Ek Nasha" and a string of exotic boyfriends, MK was a highly respectable actress with several impressive performances in demanding movies like "Bombay," "Khamoshi," "Grahan" and "1942: A Love Story" to her credit. She took on roles which were, while mainly of a victim, highly challenging and required a considerable amount of acting prowess which she proved she was capable of over and over. Sadly, those days seem long past now.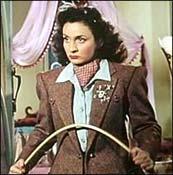 Nadira: Now one may see this as an odd choice. Nadira was never a mainstream actor as such and certainly not the leading woman. However, she was one of those first women who made the vamp look good on the silver screen. With a host of powerful performances in the black and white era, she very much reminds me of Gloria Swanson in "Sunset Blvd." In fact, if any actress could have carried that role off in India, it would have been her. Absolutely unrestrained and extremely powerful, she was, at once, intimidating and alluring in all her roles. A truly powerful actress with more balls than most men can lay claim to.
Helen
: The first bombshell of Bollywood, she brought the oomph factor to the silver screen with her cabaret numbers. She isn't an actor but a performer. But through her performances, she has built a position and reputation few can lay claim to. She was bold for her time and showed great courage in the kind of numbers she did. For what she did, she sure had the gumption required to pull it off, and it shows even today.
Pooja Bhatt
: Despite all the poor mainstream choices and the occasional bad publicity offscreen, Pooja Bhatt has the guts and the gumption that has made Mahesh Bhatt, the director a force to reckon with. Her career as an actress is much like her father's as a director: some highly sparkling works littered across wastelands. In fact, her best performances have come when she has worked for her father. Memorable roles include the powerful role of the daughter in "Daddy," the mother in "Zakhm," the prostitute in "Sadak," the unwanted daughter in "Tamanna," the small town girl in the big city with a bad husband in "Everybody Says I'm Fine" and more. Sure, there were plenty of bad choices in movies. However, when one mentions her name, these are the performances that immediately spring to mind and each of them is as difficult as it is different from the previous one. Rarely given the credit due to her, Pooja Bhatt is one girl with gumption.
Shabana Azmi
: She is one of the two goddesses of the parallel cinema movement of the 1980s. Need I really say more? With tons of national awards, critics awards etc. etc. in her bag along with performances like "Arth," "Godmother" and "Fire" to name just a few, she is without a doubt, one of the most diverse actresses to arrive in the film industry. An Indian Meryl Streep of sorts, she is a powerhouse of talent with oodles of elegance, charm and personality.
Smita Patil
: She is the second of the goddesses. Her career is much like Guru Dutt's: an impressive list of performances within a short time, a highly controversial personal life and an untimely death that robbed Indian cinema of one of its finest talents. What more she could have achieved, we can only guess. Her good performances? "Arth," "Bhumika," "Mandi," "Waaris" and lots more.
Tabu
: Without a shadow of a doubt, she is the most talented actress of her generation in India. With the (very) rare exception of movies like "Tu Chor Main Sipahi" and "Vijaypath," she has given one knockout performance after another in movies like "Maachis," "Hu Tu Tu," "Astitva," "Cheeni Kum," "Maqbool," "Chandni Bar" and more. She has never enjoyed the spotlight in the industry and her work speaks volumes of her talent. There is no role she cannot do. She can play the wronged Sikh terrorist in "Maachis," the unapologetic adulterous wife in "Astitva" and the woman in love with a man twice her age in "Cheeni Kum" with equal aplomb. With a piercing gaze she can cut any man to size and one long sad stare is enough make the audience weep. Nearly no role of hers is ever conventional or similar to her previous one. It's a pity she has been working lesser and lesser in recent years. Much like Gulzaar this one is.
So, this is it. These are the only women in the past I can remember off hand who can lay claim to have taken on bold and courageous roles consistently and excelled at them. They are one of the reminders of the fact that Hindi movies aren't, after all, all song and dance and its actresses aren't either breathtaking or playing mothers. They can be raw, powerful, sensuous and aesthetic; all at the same time.