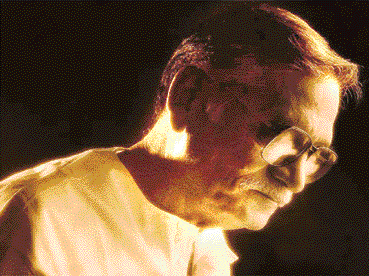 "Ek Chhota Sa Lamha Hai Jo Khatm Nahin Hota
Main Laakh Jalata Hoon Ye Bhasm Nahin Hota
Ye Bhasm Nahin Hota"
-
Maachis
I was recently going through some of the songs written by Gulzar and I came to realise how much lyrics have changed over the years. Every generation has had its pulp lyricists who churn out lyrics by the dozens each day for the masses to mouth and forget the very next day. Every generation has had its Sameers. Our generation has its spatter of such mainstream lyricists. There are of course the occasional gems that were given to us by Anand Bakshi and Javed Akhtar (the latter more so before he started producing standard template lyrics, yet there is still the occasional "Sapnon Se Bhare Naina"). But very rare have there been lyricists who have consistently delivered superb lyrics. One such person is Sampoorna Singh "Gulzar."
In fact, it is very interesting to compare Gulzar and Javed Akhtar. Both wrote films before lyrics. The latter along with Salim Khan gave us some unforgettable entertainers like Sholay, Zanjeer, Seeta aur Geeta etc. But, like his lyrics, the areas where Gulzar scored over Javed Akhtar always were his depth and certainly his originality. Even when drawing inspiration from Shakespeare ("Angoor") or classics like "Sound of Music" ("Parichay"), he brought a lot of originality into his work and made it his own rather than a mere imitation. Furthermore, unlike the large canvas of Javed Akhtar, Gulzar always told stories that were simple on the face of it but staggering in their complexities. Gulzar always showed a rare maturity when dealing with human emotion and created such real characters that it was impossible not to care for them. Be it the rocky relationship of Mahinder, Sudha and Maya, the love of Aarti Devi and J.K., the wisdom of Raghu, the greyness of Sanathan, or the chaos cooked up by Dr. Parimal Tripathi, Gulzar has never shied away from the complexities of seemingly simple stories and relationships. He has dealt with some explosive subject matter in movies like "Aandhi" and "Maachis" and has shown amazing restraint and insight. Many of his dialogues are classics. For example, take this one from Aandhi in the middle of "Tere Bina Zindagi" as the two characters reminisce about their relationship:
J.K.: Yeh jo chaand hai na, issye raat mein dekhna..
Yeh din mein nahi nikalta..
Aarti: Yeh to roz nikalta hai..
J.K.: Haan lekin beech mein Aamawas aa jaati hai...
Waise to Amaawas 15 din ki hoti hai..
Lekin is baar bahut lambi thi.
Aarti: Nau baras lambi thi na?
The same is true for his lyrics. Gulzar is perhaps the best lyricist that Hindi cinema has ever seen. I read somewhere that Gulzar's lyrics are not for the common masses. They are too heavy to comprehend for most. However, barring a few exceptions, I would seriously disagree. In fact, very few lyricists captured the beauty of individual situations and relationships the way Gulzar did. His words are honest and extremely relatable for the most part. For example, take the situation in Ijaazat where "Mera Kuchh Samaan" plays. Mahinder is reading the letters of Maya who is reminiscing the memories they share and she asks him to return some of them. Some of my favourite lines from the song are as follows:
"Ek akeli chhataree main jab aadhe aadhe bheeg rahe the,
Aadhe sookhe, Aadhe geele, Sukha to main le aayi thi,
Geela man shayad bistar ke paas pada ho,
Woh bhijwa do, Mera woh samaan lauta do."
This song is perhaps one of the best examples of Gulzar's lyrical prowess. While most lyricists (if not all) are content with bringing out the ideas of love, friendship, anger, joy in the simplest ways, Gulzar showed a remarkable understanding of human experiences embodying these ideas and thus was able to evoke real emotions through his lyrics. Also, at the same time, another remarkable feature of his lyrics is that he writes them very specifically keeping his characters in mind. This understanding is rare among lyricists and partly associated with the fact that Gulzar also created many of these characters. It is easy today to take a Javed Akhtar song from one movie and put it in just about any other. That is not true of Gulzar though. In the above song, for example, he takes the simplest examples of the relationship two lovers share and uses them to write his song. At the same time, these examples are highly specific in the context of the characters. It is easy to see Maya's boldness, longing and consequent frustration emanating from the words. It is difficult to place it in any other movie with any other character. The same can be said for "Tujhse Naraaz Nahi Zindagi" in relation to Shabana Azmi's character in Masoom or "Dil Hum Hum Kare" in relation to Dimple's in Rudaali.
Another rare distinction that Gulzar holds is the ability to do justice to a large number of themes in his songs. Be it songs for children ("Jungle Jungle Pata Chala Hai" and "Lakdi Ki Kaathi"), about melancholic loneliness, ("Paani Paani Re") or life in general ("Filhaal"), the longing for a loved one ("Mere Yaar Milaade" from Saathiya) or the madness of gangsters ("Kallu Mamaa"). Most recently, he even wrote a song about AIDS and contraception for the upcoming "Kaminey" ("Fatak"). Truly, there is no situation of which he cannot write songs about. One of his finest songs about life include "Ae Zindagi Gale Laga Le" from Sadma:
"Ae zindagi gale laga le,
Ae zindagi gale laga le,
Hum ne bhi tere har ik gam ko,
Gale se lagaaya hai
Hai na?"
Overall, Gulzar is the best lyricist and amongst the best writers of all time. Over the last four decades, he has put together a highly impressive body of work in both capacities. As a writer he has done dramas, comedies, political epics, romance and much much more. In an age where movies like Kambakht Ishq and Om Shanti Om rule the roost, one misses the sensitivity and the insight that Gulzar has to offer. As a lyricist as well, he has become increasingly reclusive and works with very select movie makers like Vishal Bharadwaj, Shaad Ali and some others. However, his contributions to the world of cinema are invaluable and his work is, and shall forever remain, unforgettable.